Madura Sunnyvale
(By Naveen)
Address:
Madura
1635 Hollenbeck Ave
Sunnyvale, CA 94087


Madura Sunnyvale: Orgasm for the Palate
Continuing our restaurant pilgrimage in the Bay Area, the next coveted shrine we set foot into was Madura, another South Indian Vegetarian restaurant.
We had visited a few other restaurants between Bhimas and Madura but the nature of Indian food is such that unlike Indian movies your never get tired of it.
We were as fresh as on day one and ready to take on Madura's tempting fare.
Facilities & Ambiance
Madura isn't exactly an interior designer's delight but such is the case with most Indian Restaurants in the Bay Area and elsewhere.
What is more important is the basics and those were flawless – Good parking, neat tables and chairs, fair spacing, clean silverware and clean rest rooms.
The Food
We scurried through Madura's menu which had the all too familiar South Indian Vegetarian items and ordered a combination of the usual suspects and whatever could be called unique.
Vadas
As our food started landing on our table, first off we could sense the freshness in the aroma of the warm Rasam Vada and the taste of Sambar Vada.
Both items were so delicious that they vanished in a matter of seconds.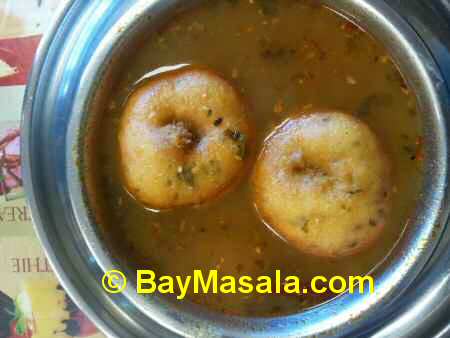 Rasam Vada
In both cases, the Vada was plump and well soaked and quickly melted in the mouth hitting all the right spots and evoking a delirious response.
The semi-thick and tangy Sambar was rich in Drumsticks, Onion and Dal (Lentils).
The thin and easy Rasam was aromatic and spicy.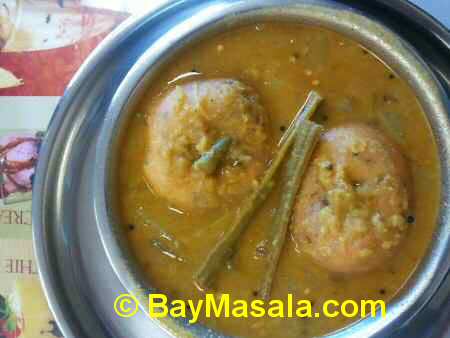 Sambar Vada
The deadly duo was generously seasoned with melted ghee making them sinuously savory.
Idlys
Next, we moved on to Mini-Idly and Sambar Idly.
Both dishes were captivating in appearance and gratifying in taste.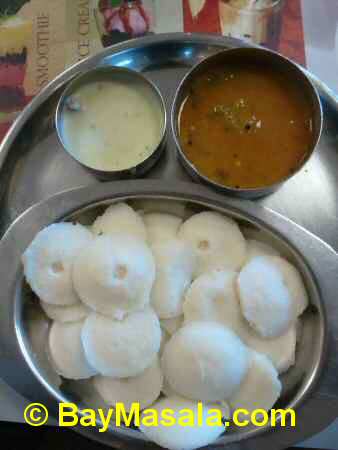 Mini Idly
The soft n spongy Idlys were a delight to bite and the addition of melted Ghee on the Sambar Idly knocked up the satisfaction level by a notch or two.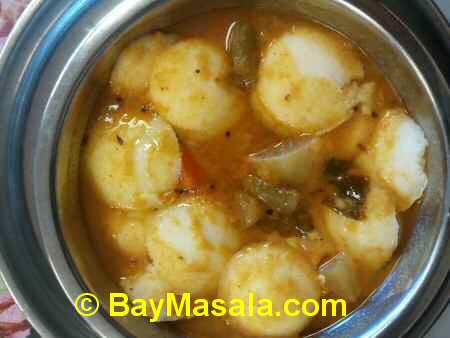 Sambar Idly
Coconut Chutney was evenly grinded, spiced and adequate but didn't excite us as much as the aromatic and luscious Sambar.
Dosas
The crusty Mysore Plain Dosa was simply a delirious joy to bite.
It was finely roasted with a judicious spicy spread inside.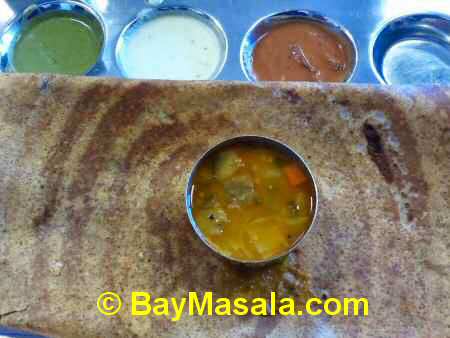 Mysore Plain Dosa
The combination of the Dosa with Chutneys and Sambar was simply orgasmic.
The green (Coriander – Chilli) chutney didn't impress us as it had neither a unique flavor nor a distinctive taste.
However, red chutney was lip-smackingly delightful with great spice level and the right degree of sourness.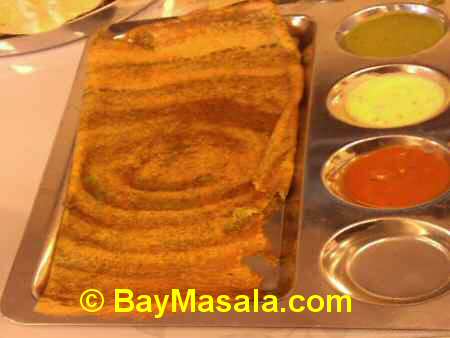 Cilantro Dosa
In contrast to the Mysore Dosa, the Cilantro Dosa was soft and moist with the water from the Cilantro paste applied inside and the paste itself was a little raw.
This Dosa also tasted ok but it didn't make us drool over it.
Kothu Parotta
The next item turned out to be a Tamil Nadu special called Kothu Parotta.
An item which is basically a Parotta but shredded into small bites as it is being cooked.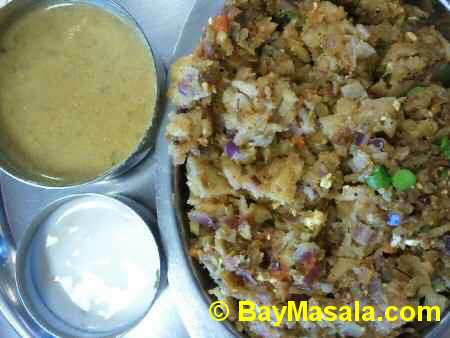 Kothu Parotta
Boy, wasn't that a delight!
The pieces were soft, evenly cooked and warm.
With the sprinkling of Onions and a yummy Kuruma on the side, this dish was a true show stopper.
The Kuruma was fantastic with a tempting flavor and an even more alluring taste.
Madura Special Meals
Last but not the least was the Madura Special Meals which is served with either Chapathi or Pooris.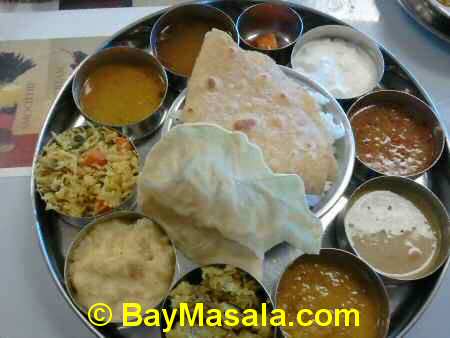 Special Meals
The Chapathi were frustratingly hard and thick but the Pooris were spongy and unoily.
Apart from Sambar, Rasam and Kuruma that were fantastic, the meals also included Kaara Kuzhambu and Vaaazhaikkai Poriyal, which were delicious.
The curd had a homely taste.
The Biriyani was undercooked junk and the rest of the stuff was so so.
Drinks
Among the beverages, Coffee, or Kapi as we Tamils like to call it, and Badam Milk were the best picks.
Badam Milk was smooth and thick and Coffee had the familiar aromatic magic of filter coffee.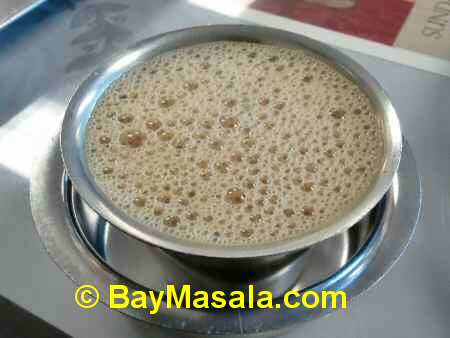 Coffee
Tea and Buttermilk were good.
Madura Sunnyvale Food Ratings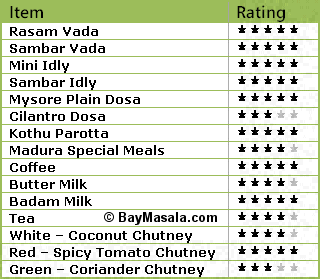 Food Rating Chart
Great Service
Madura's service rocked!
Seating, Ordering, Serving and Billing were prompt.
Water was refilled frequently and the courteous waiter gave us extra Sambar without being asked. How often does that happen in a Desi restaurant?
Madura Recommendation
Madura was easily the pick of all the South Indian restaurants we visited during our trip to the Bay Area.
With fine service, good facilities and fantastic food, Madura is on top of our list if and when we visit Bay Area again.
A lunch @ Madura is strongly recommended! - © BayMasala.com